TBird ANNOUNCEMENTS
15 days ago
No Saturday tutoring during Spring Break

There will be no tutoring on Saturday, 3/25, or Saturday, 4/1. Have a wonderful break!

State Basketball

Click here for pictures by Kelly Groeneweg.

Dropping off Students in the morning

Please be considerate of others when dropping off or picking up students. Please do not block the drive but pull in to parking spaces or at least only stop in the lane closest to the building so others are not delayed.
Random Acts of Kindness Week
February 12-18, 2017!
What does it take for kindness to spread in Wyoming? All it takes is you.
Visit Kindness Wyoming.

East Preschool: April-May
East High Family & Consumer Science Early Childhood students will be hosting the annual Preschool Mondays/Wednesdays, April10-May 17 and Tuesdays/Thursdays, April 11-May 18.
BOTH SESSIONS ARE FULL. No more applications will be accepted.

Registration 2017-18.

Counselors and students will begin registration on Jan. 23 and conclude Feb. 16, 2017.

Blankets for Laramie County Kids.
2nd Annual Blanket Party
Saturday, January 21, 2017
10 a.m. - 2 p.m.
Cheyenne Evangelical Free Church
7006 N. College
Please bring a donation of a skein of yarn (no wool).
East High Mannequin Challenge

The entire East High School student body participated in the Mannequin Challenge -- the results are pretty spectacular! Click the link to the left and see for yourself!

State of the School 2016
Hosted by Student Body President Charlotte Hecht, Senior Class President Kenzie Spear, TBTV seniors Mac Rogers and Connor Sears with help from Mr. Travis Eldridge, the event highlighted the "achievements and accomplishments" of the students of East High School.
Suicide Awareness and Prevention Panel
Wednesday, Nov. 30, 2016, 6-8 p.m. @ EHS Performance Hall
Sponsored by EHS DECA: for more information, call (307) 421-3334 or find information on Facebook at
Cheyenne East High Students to End Suicide
. Click
here
for the event flier.
three-peat state champs!

Congrats to the Lady T-Birds Volleyball team!
National Champions!

Frontier FFA Horse Judging team takes first place in Indianapolis.

East High School's Frontier FFA Horse Judging team took first place at the FFA National Convention recently in Indianapolis. The team, advised by Joe Allen, included seniors Danette Vleim, Addysen Rosner, LCCC freshman Jean-Marie Hess, and senior Hanna Jankovsky.
Don't miss important deadlines!

Wow! This year is going fast and many important yearbook deadlines are approaching. Visit the yearbook block below to make sure you don't miss out on ordering your yearbook, submitting photos, submitting your senior photo, or ordering a Senior/Baby ad..
Pictured at the left is the cover of the award-winning 2015-16 yearbook -- who knows what the staff is planning for 2016-17?!
You certainly don't want to miss out!
Check all the links below today!

PL874 Forms

PL874 forms will be distributed through 2A classes on Wednesday, Nov. 2, 2016. Parents, please complete and sign your child's form and have your child return it to his or her teacher by Friday, Nov. 4, 2016. Thank you!
Parent-Teacher Conferences

Please join us for parent-teacher conferences Thursday, Oct. 27, from 3:30-7:30 p.m. in both gyms.
SENIORS: Announcements, Cap & Gowns, Class Rings

Herff Jones representatives will be in the lobby Wednesday, Oct. 26 from 7 a.m. – 3:15 p.m. to take your 2017 Custom Class Announcement, Cap & Gown & Class Rings orders. They will size your finger for your ring and help with your graduation order. You will need a down payment with your graduation order and, if ordering a class ring, you will need a separate down payment for that. Class Ring & Graduation information catalog packets can be picked up in the Spirit office from Mrs. Restivo. Look forward to seeing you!
Be A Hero, Stand up to Bullying
Anti-Bullying March
October 22, 2016 @ 10 a.m.
Cheyenne Depot Plaza to Supreme Court

Safe School Ambassador's anti-bullying march -- come support your favorite super-hero, your Cheyenne Schools, and your community in stopping bullying in its tracks! Wear your favorite superhero gear!!!! Be someone's hero!
School Picture Retakes: Oct. 4

If you would like to have your school picture retaken, please bring your picture packet with you to the Performance Hall between 10:30 a.m. - 1 p.m.
Homecoming: 1920s NYC!

Black, White, and Red Carpet: Sept. 29-Oct. 8

Be sure to join in the Homecoming festivities from window painting to dress up days and evening events including Mr. T-Bird, Karaoke, Boys VB, Movie in Gym, the Homecoming Parade, Game and Dance. Click here for the schedule of events.

---
Hometown Game
Theme Nights!

Ramp it up when attending the home football games -- find out the theme and come ready to support your TBirds!
East vs. Laramie
Oct. 7, 6 p.m.

"HOMECOMING"

East @ Central
Sept. 30, 6 p.m.

"WHITE OUT!"

East vs. Kelly Walsh
Sept. 23, 7 p.m.

"Red, White, & Blue"

East vs. Sheridan
Sept. 16, 6 p.m.

"NEON/GLOW"

East @ South
Sept. 9, 7 p.m.

"MILITARY APPRECIATION"

East vs. Natrona
Sept. 2, 7 p.m.

"BEACH/HAWAIIAN"

SCHOOL RESOURCES - Click to download or open
Principal's Corner...Mr. Mirich
about 1 month ago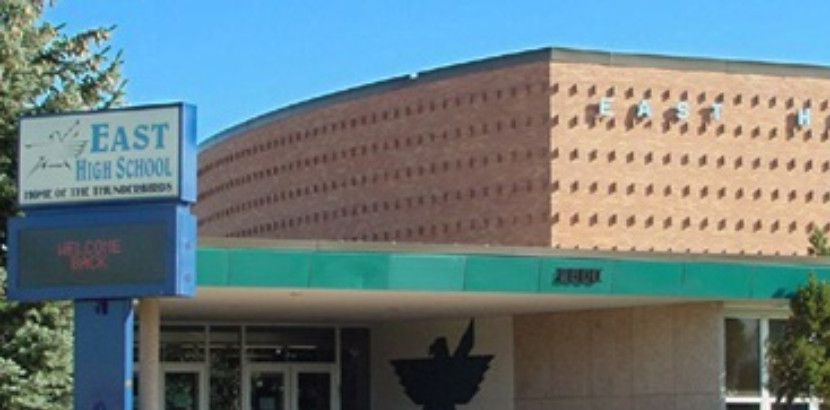 Infinite Campus
Access grades and attendance information through the Infinite Campus Portal found in the LCSD1 Links section on any district home page. Or, visit the classroom pages through Canvas, also in the LCSD1 Links section.

Extended Day
Come to the TBird Academy, room 347, Monday-Thursday from 7 a.m. - 4:30 p.m and Saturdays from 9 - 11 a.m. if you need additional help in your classes, a quiet place to study, or you need to work on a computer. There are certified instructors and student tutors available to assist you!

East Cares
Do you need food for lunch or for the weekend? Do you need personal hygiene items? If so, visit the Main Office and ask about the East Cares program. We don't want anyone to go hungry or not have basic items that we can gladly provide. There are also Friday Food Bags available through the offices for any student who needs one.